The Full Swing KIT may be used without being connected to a mobile device.
Note: Data and swing videos are not saved to the user profile when not connected to the Full Swing app.
This article explains basic functionality when not using the app. For more detailed information, please refer to the KIT User Guide section Using the KIT Without the App.
MAIN DISPLAY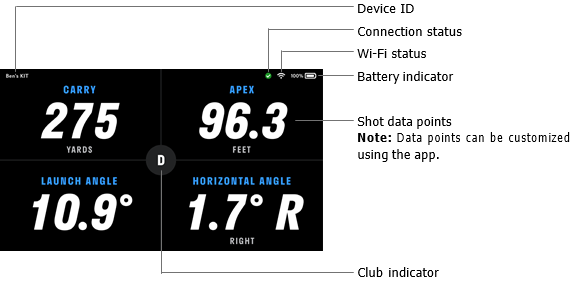 MAIN MENU
Navigate through the KIT features using the main menu.
Note: Some features may not be available if the app is connected to the unit. Confirm the app is not connected to use the following features.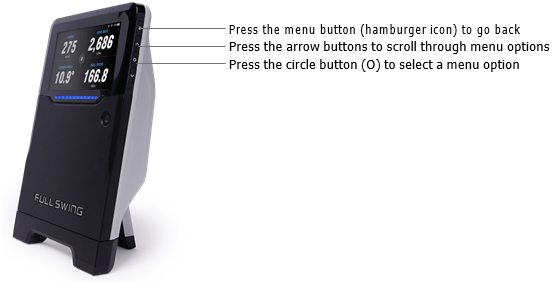 SELECT CLUB
Select a golf club from the available clubs.
SET TARGET LINE
The target line is a straight line between the KIT and the intended target.
DATA VIEWS
There are two data views available on the KIT:
Note: During a session, use the up and down buttons to scroll through different data view pages.
UNITS OF MEASUREMENT
Units of Measurements are ways to configure the distance, speed, and apex of a shot.
Distance: Select Yards or Meters
Speed: Select MPH or KPH as the measure of the speed of the shot
Apex: Select Feet, Yards, or Meters as the measure of the highest point of the shot