When the firmware is available, a pop-up will appear in the Full Swing app prompting for an update, once paired to the Launch Monitor.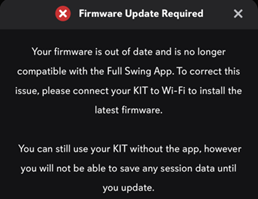 Note: The LED will light up orange once the firmware update is actively installing. Do not power down the Launch Monitor until after the update is complete. Installation typically takes 15 minutes or more to download.
Power down the Launch Monitor.
Plug it into the Full Swing supplied battery charger. The LED will light up white and the Full Swing logo will appear on the OLED.
Ensure the Launch Monitor is connected to the Wi-Fi.

When the Full Swing logo no longer appears on the OLED, tap on the power button until the battery symbol appears on the display.
Review the battery symbol in the top right corner.
Wi-Fi symbol is White: Successfully connected.
Wi-Fi symbol is Grey: Not connected.
Note: If an update takes 25 minutes or longer, please contact Support @ 1-855-688-1100.
Reference Video: